Things to Consider When Buying a Home with Kids in Texas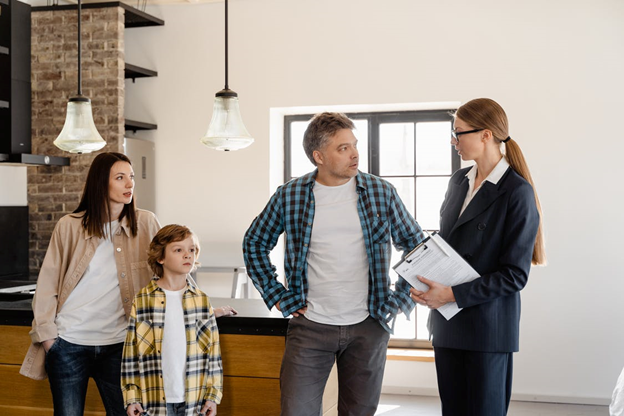 Everyone has a different purpose for buying a home. For instance, a newly-wedded couple looking for a residential property has different requirements to—let'say—a growing family that's looking for more space or a larger variety of school options.
If you're searching for a property and you have kids, the house-hunting process can be a lot more complicated. This guide will help you pay close attention to your kids' requirements so you can find the perfect home.
Involve Your Kids in House-Hunting
When looking for a house with children, it's better to narrow down your options before including them in the process. To begin with, search online and consider visiting the property without your kids first. Later you can bring them in only if you find the house suitable.
Leaving your kids at home during the first visit will prevent distractions. However, you wouldn't want to leave them out for the rest of the process. That's because your kids' participation is the key to making moving more exciting. With some advanced planning, consider taking your kids to revisit houses you found interesting.
Search Local Schools
If you're planning to send your kids to public school, your home should be located in a high-ranking school district. Do your research regarding school districts for an easier house-hunting process. Using online resources can help you identify the best neighborhoods for your family in Texas.
Another benefit of focusing on areas with high-quality public schools is that residential properties located in top-rated school districts are a lot more valuable for resale.
Determine House Size and Layout
If you have kids or plan to grow your family, a bigger home is likely to be a better choice. For example, you may need plenty of storage space or a designated kids' playroom. Make sure the house is big enough to accommodate future needs.
The floor plan is another critical factor to consider as it should match your family's lifestyle. For instance, if you need to sleep near your kids, ensure the bedrooms are on the same floor.
Moreover, having a yard in your home means more summer activities for your kids. Ideally, it should be big enough for your child to learn to ride a bike or kick a ball around. However, a larger yard can be difficult for you to manage. Other important features to examine include:
Size of the kitchen and dining area
Space to invite extended family and friends
Number of bathrooms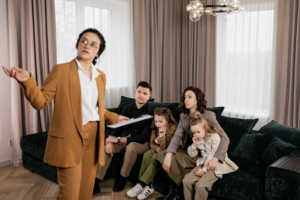 Choose the Ideal Location
With kids, you need to visit the pediatrician and grocery stores frequently. Living a few minutes away from local services and amenities will make it easier for you to travel. Make sure your child's school is located near your house, and consider the type of street your property is on. For instance, a house on the quiet side of the road is safer than the main road because of less traffic.
Moreover, think about the community you select to live in. For instance, if you prefer living in a city rather than a small town, your kids may be closer to culture, but they may not have access to nature and green space found in a less densely populated area.
Assess the Safety of Your Home
If you have small kids, make sure the property is safe, and the house can be easily child-proofed. For example, stairs in a house can be dangerous if you have a toddler. So you should explore how the stairs can be gated off before moving into the house.
In addition to indoor features, outdoor features such as a swimming pool can be a drowning hazard. You can use fences to secure the pool or have a fenced-in yard to prevent children from wandering off.
Research the Neighborhood
If you're considering moving into a neighborhood with other families and school-age children, contact the listing agent to learn about your potential neighbors. Look for clues such as basketball goals, kids' sports gear in the yards, or bumper stickers for schools.
Do thorough research on crime in the neighborhood when choosing a house for your kids. You can also check local crime reports and relevant crime data. Talking to your neighbors about crime issues can also help you ensure your children's safety.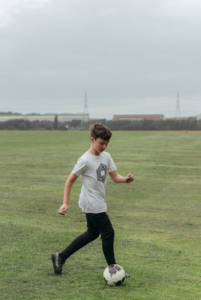 Look for Recreational Amenities
A playground near your house is a great feature if you have children. Moreover, if your children like to swim, check where you can find the nearest community pool. If the drive is far away from your home, you can look for homes with a pool or homes with a bigger backyard where you can have a pool installed.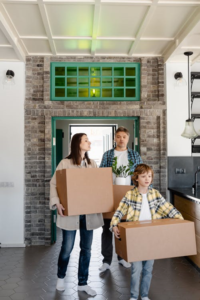 Image Filename: moving-house-kid
Image alt Text: Moving into a house with a kid
With kids and several factors to take care of during the home buying process in TX, you should contact Z Finance Solutions. The all-in-one real estate company can help you from start to finish while keeping track of your mortgage, home loan, offer, and closing requirements.
With Z Finance Solutions' help, you can rest assured about the quality of services and smooth delivery of competitive and non-conditional offers on for-sale homes. The company also offers property investment advice, home buying loan programs, home buying counseling, among many other services. Contact them now!
About the Author
The author of this post is a seasoned home realtor in Texas. The professional regularly contributes to the Z Finance Solutions' website helping thousands of homebuyers find the perfect residential property. He specialized in providing first-time homebuyers access to mortgage preapproval and down payment assistance programs.